Congestion Charge zones in London, what is a ULEZ charge, and how to avoid them both?
Congestion charges are mostly levied in London, especially in central London, to avoid congestion – traffic jams, and of course, air pollution too. While understanding the concept can get a little difficult at first, avoiding congestion charges can be a simple task too, by understanding what it means, where it is levied, and their timings. Nobody wants to get charged for something like congestion. Read on, to find out how to avoid doing just that.
What Is a Congestion Charge?
The congestion charge is also known as the CC, which is levied on your vehicle, for driving through certain parts of London. Congestion charges were introduced to reduce air pollution, traffic congestion, and of course, to raise money that can be used by the government towards public transportation. These charges are levied by a sea of cameras that are installed throughout the area, which take pictures of your car's registration number.
London was the first to impose congestion charges in the world, which was followed by a slew of cities after that, around the world, including Milan, Stockholm and Singapore, among many others.
How Much Does the Congestion Charge?
Congestion charges are expensive, with the nominal fee being &pound15 a day (7 AM – 10 PM), except on Christmas day, for cars, smaller vans, motorbikes and other lighter vehicles, and is much higher for HGVs and coaches. Congestion charges apply seven days a week, with no exceptions at all. Therefore, a lot of people do their best to avoid it, and prefer using bicycles, walking, or public transport, in the areas where congestion charges apply.
There's also an option where you can sign up to pay the charge monthly through the Congestion charge Auto Pay scheme (CCAP). This scheme catalogues all the days you travelled inside the CC zone and then bills the registered card &pound10.50 per day at the end of the month. You will have to register in advance for the scheme and a registration fee of &pound10 per year per vehicle applies. While it costs less than the nominal fee through this scheme, it is still a costly affair
When Did Congestion Charge Start in London?
The CC scheme was brought in by the then Mayor of London, Ken Livingstone, in 2003. Back then, it was &pound5 a day, but has now more than doubled.
There was a western extension introduced to the scheme as well, covering much of Kensington, Chelsea and Earl's Court, which was introduced in 2007. However, following the protests of residents and local business owners, it was removed in 2010.
How To Pay the Congestion Charge?
There are several ways through which you can pay the congestions charges. But the basic step is to register for a personal account and pay &pound10 to register each vehicle, after which you will be able to pay through one of the following methods:
1. Online via the official London Transport website
2. Via text message (you will need to activate the text payment service by calling TfL on the number below)
3. Or by phone on 0343 222 2222
Any of these methods can be used to pay, up to 90 days prior to travelling, or on the day of your travel. However, you would only be able to pay by your phone, or online, if you choose to pay after your visit. In case you fail to pay and are issued with a PCN, the notice will include payment instructions.
What Happens If You Don't Pay Your CC Charge on Time?
In case you either forget to pay the charge, or maybe just decide to ignore it, before midnight of the day after you've been charged, then you would be levied with a Penalty Charge Notice (PCN). The fine is &pound160, or &pound80 if paid within 14 or 21 days (as mentioned in the PCN).
What are the Congestion Charge Timings in London?
As mentioned earlier, the timings for congestion charges are from 7 AM to 10 PM every day, without any exceptions. The only exception is Christmas Day, where you wouldn't be fined no matter which hour of the day you happen to be in the CC zone. CCs can be levied even on weekends, with the only exception being between Christmas day and New Year's Day bank holiday.
Of course, there are also would be no CC if you happen to be in the zone between 10 PM and 7 AM any day.
Where Does London Congestion Charge Apply?
Below are the areas of the London congestion charge covers:
The Congestion Charge Zones include Barbican, Bloomsbury, Borough, Charing Cross, City of London, Clerkenwell, Covent Garden, Euston, Finsbury, Green Park, Holborn, Lambeth, Marylebone, Mayfair, Newington, Soho, Southwark, St James', St Pancreas, Waterloo and Westminster are the CC zones throughout London.
The easiest way to spot a congestion zone is by the signpost with a large white "C" in a red circle. These signposts are painted on the roads as well, at the entry and exit points of these zones.
London Congestion Charge Zone Map:
The following are the London congestion charge zone areas covered in the map.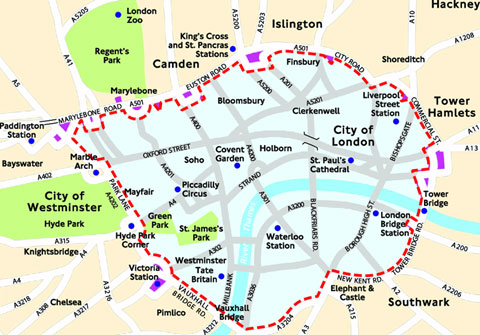 Are there any Congestion Charge Exemptions or Discounts?
There are no discounts to passers-by and other commuters, from the congestion zone pay. But there are a few exceptions.
A 90% exception is given to the residents of the area, but there are certain documents that you would need to submit to show that you're entitled to the exception. Until then, one would have to pay the full fine.
Apart from that, Discounts are Applicable to:
2. Accredited breakdown
3. Vehicles with 9+ seats
4. Cleaner vehicle discount – Only battery electric vehicles or hydrogen fuel cell vehicles are eligible for the cleaner vehicle discount. This discount will be discontinued from 2025.
5. Motor tricycles
6. Roadside recovery vehicles
Exemptions are provided to the following categories if the vehicle is recorded at the DVLA:
1. Two-wheeled motorbikes (and sidecars) and mopeds
2. Emergency service vehicles, such as ambulances and fire engines, which have a taxation class of 'ambulance' or 'fire engine' on the date of travel
3. NHS vehicles that are exempt from vehicle tax
4. Vehicles used by disabled people that are exempt from vehicle tax and have a 'disabled' taxation class
5. Vehicles for more than one disabled person (for example Dial-a-Ride) that are exempt from vehicle tax and have a 'disabled' taxation class
Can you Appeal a Congestion Charge Fine?
Appeals are made when you feel that you have been charged with a Congestion Charge wrongly. You can appeal under any of the following reasons:
1. You were not the keeper at the time of the contravention
2. You paid the charge
3. Your vehicle is exempt
4. The vehicle was used or taken without your consent
5. You registered for a 100% discount
6. The vehicle was on hire to someone else
Appeals made under any other reasons will also be considered, if they are found to be valid. A PCN can be challenged by writing to the following address: Congestion Charging, PO Box 344, Darlington, DL1 9QE.
You can also make your case through the TFL website. You have 28 days from the date the PCN was issued to either pay or appeal.
How do I Avoid a Congestion Charge?
Avoiding a congestion charge can be simple, if you follow the below suggestions:
1. Plan Your Visit Properly
Planning and timing your visit properly to make sure that you are not fined is the perfect way. Try to visit the CC zones outside of the fineable period, which is a sure shot way to avoid getting fined.
2. A Free Parking App
Download a free parking app that lets you know where you can park your vehicle, around the XX zone. Always make sure that you park your vehicle outside the zone as well, so that you are not charged unnecessarily. Having parked your vehicle outside the CC zone, you can explore the zone through other means.
3. Congestion Charge Zone Map
Sometimes, we don't need to stop in the CC zone, in fact, we don't even have to go through it, if we don't have to. This is when the CC zone map comes into picture. This map shows the whereabouts of a CC zone, through which you can locate the zone and avoid it while passing through, or simply park your vehicle outside and proceed to the zone through other means.
4. Avoiding The CC Zones
Sometimes, one simply must travel through London to go somewhere else, and not stop in London. the TfL (Transport for London) website includes several routes through London which purposefully avoid the CC zones.
5. Be Aware of Driving Surroundings
If not anything else, you could always be aware of your driving surroundings, making sure that you're not driving into a CC zone. Make sure you keep an eye out for the signpost of large white C on a red background, either on the road, or by the footpath.
Also Read: Tips to pass Practical Driving Test In UK
6. Opt For a Low Emission Car
Certain low emission cars are exempt from Congestion Charges, as they do not pollute the environment around them. You can always opt for such a car to avoid getting a congestion charge.
7. Alternative Transportation
Bicycles, motorbikes or mopeds are a wonderful way to traverse through CC zones, if you know how to ride one. They are available for rent throughout London and are even exempt from getting a CC fine.
8. The Tube
If you're new to London, or if you really want to get the perfect experience, then the Tube is the perfect way to do that. The Tube has been a part of London's glorious history and is connected to most of the city.
9. Public Transportation
You then of course have public transportation like buses, taxis for hire and others. All of these are exempt from getting a CC fine, and you could always use them while wanting to traverse through a CC zone.
Is the Congestion Charge Likely to Change or Increase?
While no change for the standard, daily charge is expected at present, it is expected to increase in the future.
Apart from the daily fee, vehicles driving into the C-Charge zone have been needed to meet minimum exhaust emission requirements since 2017. Cars, vans and trucks that meet the 'Euro 4' emissions standard are exempt, but those that are rated Euro 3 or earlier are subject to be charged. If these minimum requirements are not met with, a supplementary &pound10 Toxicity Charge (T-Charge) is applicable.
ULEZ Zone - What is ULEZ Charge and Where is the ULEZ Charging Zone Expanding To?
The Ultra-Low Emission Zone is a fee that is charged for the vehicles that are the most polluting vehicles in central London. The charge costs &pound12.50 a day and applies 24 hours a day, seven days a week to older vehicles.
Understanding the difference between Congestion Charge zones and ULEZ charging zones can get difficult, but it is quite simple. While a Congestion Charge zone covers central London, ULEZ covers Central London and the area up to, but not including the North and South Circular Roads. LEZ covers most of Greater London.
The ULEZ standards for Central London are:
1. Euro 3 (NOx) for motorcycles, mopeds, motorised tricycles and quadricycles
2. Euro 4 (NOx) for petrol cars, vans and other specialist vehicles (up to and including 3.5 tonnes gross vehicle weight) and minibuses (up to and including 5 tonnes)
3. Euro 6 (NOx and PM) for diesel cars, vans and other specialist vehicles (up to and including 3.5 tonnes) and minibuses (up to and including 5 tonnes).
ULEZ has been expanding since 25th October 2021, from Central London, to create a single larger zone up to the North and South Circular Roads. As mentioned earlier, these roads are themselves not included in the zone, though.
If you happen to pass through a Congestion Charge Zone, a ULEZ zone, and a LEZ zone, then you would be fined, and required to pay all those charges.
Conclusion
The Congestion Charge system has been an overall success since the time it was announced, as it greatly reduced the levels of pollution in London, especially Central London. Of course, it has also been helping the government raise funds, which are diverted towards the maintenance of public transportation in the country.
As seen above, CC zones and the entire scheme is not as difficult or confusing to follow through as people make it out to be. They are very simple to adhere to, and even avoid, if we just stick to some basic rules as mentioned above. Here's hoping you've gotten a better understanding of the entire Congestion Charge scheme, where it is and what it is, how much you're charged, and how you can avoid it, through this article.